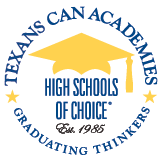 Welcome! Enrolling a student in a Texas charter school is a two-step process:
STEP 1: Complete Charter School Admissions Application
STEP 2: Complete the Texans Can Student Online Enrollment Form
BOTH steps are required to complete the enrollment process
Texans Can Academies follow the provisions for the adoption of a statewide common admission application for open-enrollment charter schools
Please complete your application for admission on the next page
For general questions contact 214-944-1938 or send an email to tcenroll@texanscan.org
Thank you! We look forward to meeting you.
Thank you